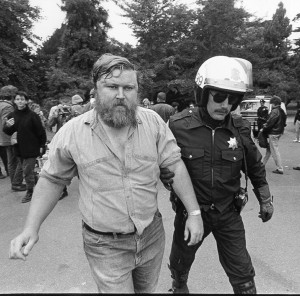 "Street feeding programs without comprehensive services actually increase and promote homelessness"—Marbut Consulting.
Over 70 cities in the United States have passed laws banning or restricting the sharing of free food with the poor outside. A new theory being used to justify limits to the sharing of meals outside is being adopted by city officials. The City of Phoenix, Arizona, is the latest municipal government to claim that outdoor food programs prevent homeless people from getting help they can otherwise only get by eating at indoor facilities.
On September 20, 2016, National Public Radio reported, "'Don't feed people living on the streets.' That's the message the city of Phoenix is spreading. Staff said it's necessary to protect vulnerable people, neighborhoods and businesses."
"It's usually a hard conversation to have at first because feeding is really something that's ingrained in communities as a good way to help," said Riann Balch, deputy director of Phoenix's Human Services Department.
When faith and community-based groups deliver meals to homeless people or organize feeding times, they often hear words of gratitude, but Balch said they also need to hear this: "They are prolonging homelessness by giving the person what they need to stay out on the streets."
Ten days later, United States Federal District Judge William Zloch ruled that Fort Lauderdale's City Ordinance No. C-14-42 restricting the sharing of meals outside to the homeless was legal. City officials hired Marbut Consulting to help them provide a justification for its law against feeding the hungry outside. The ordinance effectively bans the sharing of meals anywhere outside since there is almost no place in the city that is not 500 feet from a residence or other prohibited location.
Judge Zloch was born in Fort Lauderdale and lives in the area and must know that his ruling also makes it nearly impossible for anyone to "legally" feed the homeless.
On November 9, 2014, Robert G. Marbut Jr., justified the city's law to Rachel Martin on National Public Radio's Morning Edition this way: "If you give cash out on the street, generally about 93 percent of it goes to alcohol, drugs and prostitution. And if you give food on the street, you end up in a very convoluted way, but still an important way, you end up preventing people from going into 24/7 programming.
"We've done a lot of research. And just really getting to the big picture, there's sort of this move on the right to criminalize. And there's a move on the left to do nothing—just feed people in parks. And you don't get recovery from homelessness by being on a jail cell floor. Equally you don't get recovery from being on a park bench or out on a beach or under a bridge. Where you get recovery is when you go into 24/7 programs that holistically address the condition of homelessness."
Marbut's research included spending several days pretending to be homeless. He tells Rachel Martin: "I've probably lived homeless maybe 120 days when you add them all up."
A main aspect of the theory of "Street Feeding actually increases and promotes homelessness" suggests that most people live outside because they are alcoholics or drug addicts and that if they ate at an indoor food program, they would have access to a rehabilitation program.
Clearly not everyone that is homeless needs drug or alcohol treatment. For example, a National Center for Family Homelessness report found that an estimated 2.5 million children experience homelessness annually, continuing a steady rise from 2006 and 2010. Studies show no evidence that most of these children need drug or alcohol treatment. Sure, some of their parents could benefit, but that is still not the principle solution to finding a safe home for most of these children. And drug or alcohol addiction is not the only cause of homelessness.
There is also little evidence that homeless people in need of treatment are finding help at indoor meal programs. During my over-36 years of providing meals on the streets, I find most people that eat with Food Not Bombs also obtain meals at indoor soup kitchens. If experts like Robert Marbut are correct, people who eat at these indoor programs should be receiving drug or alcohol treatment, but this is not the case. It is also my experience that getting into a drug or alcohol treatment program is difficult if not impossible even for those living outside who are desperate to end their addiction.
There are a few exceptions. I had one friend named "Little Bit" who was desperate to end her abuse of crack cocaine. She ate with us nearly every Monday at the entrance to Golden Gate Park in San Francisco. I took her to a local rehab program. They agreed to take her for free. She had to arrive in the afternoon on a Monday six weeks from the day we booked her treatment. I encouraged "Little Bit" to eat at Food Not Bombs every week so I could make sure she remembered to go. I wrote down her appointment in my date book and reminded her of her appointment every time I saw her. Finally the day arrived and she came to eat with Food Not Bombs, and I was able to take Little Bit to her appointment. Little Bit returned to Food Not Bombs months after she entered the program dressed in a nice suit. She was thankful and gave me a hug of gratitude. Little Bit found her route to sobriety by having frequented a program that provided food outdoors.
Little Bit's success was 20 years ago, but conditions are not so different today. Last year my girlfriend Abbi Samuels and I tried to help a family protect their child from confiscation by Child Protective Services. They came to eat at Food Not Bombs and enjoyed their free meals outside on the steps of the Santa Cruz Post Office. We learned that the father used heroin and wanted to stop. The drug treatment centers charged thousands of dollars and had waiting lists. The only free center required participation in their Christian Services. His child was taken to foster care before he found help.
A Santa Cruz Sentinel Editorial from March 20, 2013, said: "No issue has so divided the greater Santa Cruz community as providing day-use services at the Homeless Services Center. … The public's perception that transients continue to be a visible, often unwanted, presence in the city, county and downtown Santa Cruz in particular. … And a longstanding, persistent outcry that Santa Cruz is a magnet for transients from other places mainly because of the support and services available here. … Critics say Santa Cruz cannot be expected to solve a national problem—and that day services contributes to an ongoing public safety problem."
Many of the city's "transients" have lived in Santa Cruz for years with a large number having been born in the city. Most day-use services, including meals, ended in June 2015.
I believe the real reason cities want homeless services to move indoors is to hide the problem so they will face less pressure to fund solutions. National and state officials also support local efforts to drive the homeless crisis out of sight so they too will not be forced to divert tax dollars away from programs that please their campaign contributors.
Food Not Bombs shares its meals outside so people who would otherwise ignore our social, economic and political ideas might happen upon our message. We want to encourage public support for a change in society where no one is forced to eat at a soup kitchen or live on the streets. We want the public to ask if we really should we be spending half our federal income tax dollars on the military while making cuts in education and social services?
Encouraging a public discussion on these issues by sharing vegan meals on the streets and providing literature at visible locations does not mean Food Not Bombs can't also help people get treatment for addictions or find employment. Since we encourage those who come for our food to participate as equals in the running of our local chapters, it is more likely those we eat with will gain a sense of self esteem. This is the type of respect people need to change their lives. Banning "street feeding" is not going to help end homelessness. Changing society by providing education, housing and hope can.