Brandon Darby is a subject near and dear to many activists' hearts. He's the ultimate Benedict Arnold of the 21st century American left;  like if Fred Phelps and Leni Riefenstahl had a baby.
So it may interest some for the record, and some for the closure, that the documentary "Informant" comes out this September. "Informant" tells its tale from as nearly a first person perspective as cinema allows, from the mouths of Darby's Common Ground allies to the voices of the Austin activists he helped imprison. And most of all, from the perspective of Brandon Darby himself, who narrates in great detail how he ended up leading a resistance campaign in post Katrina New Orleans as well as how he came to be an FBI informant.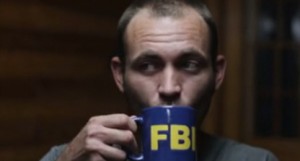 Of course, many of the other people interviewed for this film are allowed to repeatedly make the point that they view the subject of this film as an abusively pathological liar and that no one should listen to anything he has to say.
That's a fair point to make. I certainly feel that based on my experiences in dealing with people's abusive behavior in activist culture that allowing the accused person's narrative of their behavior to be the dominant one is an extremely flawed way to develop accountability. While we do hear from the people he set up in the run up to 2008 Twin Cities RNC as well as other people affected by his behavior, painfully Darby is allowed to retort to their accusations in a way reminiscient of some of the worst examples of attempting harm reduction. I can almost hear Darby's social conservative supporters nodding along to the vindication he communicates throughout the film at his actions.
Anyone looking to see the absurdity of Darby now that he's talk show buddies with Glenn Beck will be a little let down – this film only covers his sordid tale through about '08 or '09.
Otherwise "Informant" is a really informative film on how the minds of people who strive for social change can easily be warped from the trauma, doubt, and fear they face on a daily basis, as well as how law enforcement preys on these problems. Its a hard and necessary lesson for the American social change community that has largely failed to overcome the discord and state oppression that has kept us from stopping our government's crimes. The daily toll of these human rights abuses and economic genocide has made the tragedy of this tale perpetually inevitable.
"Informant" comes out nationwide September 13th. Find a screening here.
An Update on the Nato 3/5
As many of you may know, the style of entra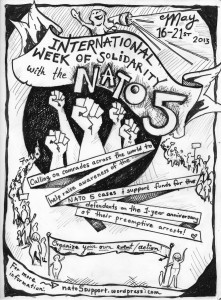 pment that made Darby famous has had a high toll in the activist community. Accused in a very similar manner of making molotov cocktails as David Mckay and Brad Crowder were, the NATO 5 have been imprisoned in Illinois since May of 2011. Their treatment has been severe and campaigns to improve their conditions by prison solidarity activists has frequently been necessary. Brent Betterly, Jared Chase, and Brian Church all face 11 felony counts including terrorism charges. Sebastian "Sabi" Senakiewicz took a plea deal last year and is now being deported to Poland. Mark "Migs" Neiweem took a plea deal with a 3 year sentence and recently has been placed in solitary for "being an anarchist." All are still currently imprisoned and need help.
If you find these issues to be important enough to see this film, than please also take the time to see what you can do to help the NATO 3. Their persecution and imprisonment will likely be long and harsh and they need the help of those of us lucky enough to still be free.
For more information visit nato5support.wordpress.com