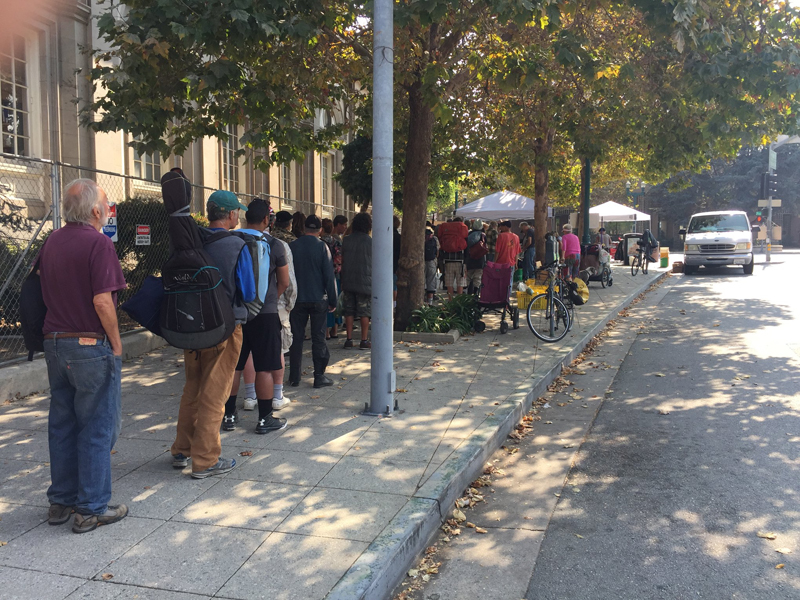 Please call Governor Brown at (916) 445-2841 and ask him to veto AB- 2178, Limited Service Charitable Feeding Operation. Food programs all across the state could be told to stop sharing free meals with the hungry if this becomes law. AB- 2178 passed on September 4, 2018.
The sharing of food with the hungry is an unregulated gift of compassion. The purpose of food safety laws is to regulate commercial food establishments that have an economic incentive to serve unsafe food. Until AB- 2178, this concept in law was understood.
August 15, 2018, marked the 30th anniversary of the first arrests of Food Not Bombs for "making a political statement" by sharing free food with the hungry. Nine volunteers were arrested at the entrance of Golden Gate Park by a squad of San Francisco Riot Police as they were about to share lunch with several dozen people.
Thirty years later a new threat that could lead to more arrests is on Governor Brown's desk. He has until September 30th to sign or veto the bill.
A well-meaning young State Assembly Person, Monique Limón has introduced AB-2178, called the Limited Service Charitable Feeding Operation. Grassroots organizations like Food Not Bombs will be required to pay fees and seek commercial kitchen space or be threatened with arrest. This law gives the impression that it is making it easier for those feeding the hungry to get permits but instead it will force people volunteering to meet the needs of the hungry to comply with the most expensive parts of Environmental Health Regulations that now only commercial food establishments are required to follow. AB- 2178 could provide another tool in the campaign of those seeking to drive the homeless and poor out of sight.
According to Justin Malan, Executive Director of California Association of Environmental Health Administrators and Freddie Agyin, Los Angeles County Environmental Health, District Surveillance and Enforcement Branch, Baldwin Park, AB-2178 is in response to complaints to local Health Departments about groups feeding the hungry who want the meals stopped. When asked about people claiming to be made ill eating at all volunteer programs, Freddie Agyin said they have no direct information that could link the meals they seek to regulate with any reports of food borne illnesses.
A volunteer with Santa Monica Food Not Bombs called me on August 29, 2018, to say that someone from the anti-homeless group, Residocracy Santa Monica, took photos of the group sharing meals at Wilshire Boulevard and the Third Street Promenade and posted them on Facebook asking people to complain to the church where they were preparing the meals. As a result the church told Food Not Bombs we could no longer use their kitchen. They are planning to cook at Salvation Army and share the meals inside the Salvation Army Building which will not only reduce the number of people being helped but hide the efforts of our group to build support for real solutions to hunger and poverty. This is the classic example of why AB- 2178 needs to be stopped.
To understand why this misguided effort to introduce a special law to "help" people share food with the hungry could lead to the arrests we can review the case of the August 15, 1988 police interference in San Francisco.
When asked by reporters why the meals had to be stopped San Francisco Police Public Relations Officer, Jerry Senkir stated, "There has to be some kind of (police) action. At this point, it seems to be a political statement on their (Food Not Bombs) part, not a food give away issue."
The police made nearly 100 arrests by September 4, 1988 at a cost of least $116,000 according to a letter received from the police department by Supervisor Terence Hallinan.
The police must have been told that making a political statement was a Constitutional right so they found another excuse for making the arrests.
"It's illegal to give away food in the park to more than 25 people without a permit," Sargent Jerry Senkir told UPI journalist Chris Chrystal on September 5, 1988, "This outfit has never applied for a permit," Senkir continues.
The police apparently didn't check in with San Francisco Recreation and Parks Director, Peter Ashe. We had sent the director a letter on Food Not Bombs stationary dated July 11, 1988, that starts "We would be interested in a permit to provide free meals and information at the corner of Haight and Stanyan Streets in the park."
After two days of meetings with San Francisco Mayor, Art Agnos the city drafted a temporary permit process that would become law after a public hearing with the Recreation and Parks Commission. Park officials provided opponents of the Food Not Bombs speaker cards so they would be the first to make a public statement against the meals. Almost no one who spoke at the hearing wanted the permit process but the commission unanimously voted for it. One requirement was to obtain a health permit.
After months of Environmental Health Inspector Al Chin stringing us along with weekly additions to qualify for a health permit Food Not Bombs sued the city. The case was sent to Federal District Judge Peckham. Food Not Bombs volunteers Peter Donahue and Keith McHenry met with a City Attorney at Judge Peckham's office. After hearing our concerns the judge ordered the city to provide one last list and if we complied with the requirements we were to be issued a health permit.
We returned to Peckham's office a week later with a list of the completed requirements. He ordered the city to issue the permit.
The media assembled outside San Francisco City Hall to report on the historic issuing of health permit D 2258 in the morning of September 11, 1989. A second Permit to Operate numbered D2260 was issued to Food Not Bombs on March 13, 1990.
City officials did not want Food Not Bombs to share food and were using the logic of required permits to make its opposition to the meals acceptable to the public.
Food Not Bombs had its March 1990 permit withdrawn when a health inspector who was interfering with the assembly of our food facility tent witnessed a hungry person helping himself to a slice of sheet cake before we had displayed our permit to operate.
On July 19, 1990, the San Francisco Recreation and Parks Department deleted the permit process for sharing free food in city parks in Resolution 15585 Section 1, subsection IV. The city is also granted an injunction against Food Not Bombs banning the group from sharing food without a permit. We survive another 700 arrests for Felony Conspiracy. Food Not Bombs responds to each of Mayor Jordan's public claims that the group just needs a permit by applying for a permit a total of 136 times.
Food Not Bombs agreed to engage in this permit struggle to demonstrate to the public that the City was not really concerned about food safety and park use permits but just wanted to silence the group's campaign to pressure authorities to address the issue of poverty.
Many municipal governments have attempted to stop the sharing of food in public spaces by passing laws claiming they had the authority to grant permission. Because Food Not Bombs is an all-volunteer movement and there is no economic incentive to cut corners or serve unsafe meals we know that the sharing of free food with the hungry is an unregulated gift of compassion. Our meals are also an essential part of our political speech in support of a change in National priorities and are protected by the First Amendment of the US Constitution.
The National Coalition of the Homeless reported that over 70 cities in the United States have passed ordinances that ban or limit the sharing of free food with the hungry in public spaces.
City governments in California and Florida are the most aggressive in their efforts to stop the sharing of free meals with the hungry in public spaces.
We received an email on October 23, 2013, that started, "Hello Food Not Bombs, My name is David Conway and I am the Environmental Health Director for Mariposa County, CA. I am a member of the California Conference of Directors of Environmental Health Food Safety Policy Committee. I am working with other Environmental Health Directors around the State of California to try to make feeding the homeless/hungry easier for groups such yours."
We responded that Food Not Bombs sharing of food was an unregulated gift of compassion and did not require that help. Food Not Bombs had already adopted a policy of never applying for or excepting a permit at the 1995 International Gathering in San Francisco based on our history with that city's permit process.
On February 12, 2018, State Assembly Person, Monique Limón introduced AB-2178, called the Limited Service Charitable Feeding Operation.
The June 20, 2018 version of AB – 2178 summery reads, "Establishes a limited service charitable feeding operation as a new category of regulated food facility, whose food service is limited to storage and distribution of nonpotentially hazardous foods or commercially prepared or packaged hazardous foods, or limited service of commercially prepared foods, and exempts these charitable feeding operations from many, but not all, of the requirements that apply to other food facilities."
California Association of Environmental Health Administrators (CAEHA) was the sponsor of this bill. The same association that contacted Food Not Bombs in 2013 offering to "make feeding the homeless/hungry easier."
Writing in support of the legislation, "The County of Santa Clara states that this bill is an important step to address the problem of food insecurity while protecting public health, enhancing safety, and safeguarding the environment." The largest city in Santa Clara County, San Jose, attempted to ban the sharing of free meals in public spaces in 2017 but withdrew its proposal after community pushback.
Hunger Action Los Angeles wrote against the bill, "HALA states that several of the groups in its network are small, completely volunteer-run coalitions of concerned citizens who have taken it upon themselves to provide healthy cooked meals for homeless people and other low-income people they encounter in their neighborhoods. HALA states there are several provisions that are direct operational restrictions on how these groups could operate and would affect food access across their network."
It must be assumed that Monique Limón introduced AB-2178 out of concern for the wellbeing and safety of the state's poor and homeless. Her short legislative history is generally positive. Limón was probably not aware of the possible repercussions and does not realize how local officials can use this legislation to shut down community efforts to end hunger and the history of government repression against those sharing food with the hungry.
This is a solution without a problem. There is no evidence that hungry people have been made ill eating at meals shared in public spaces by community activists. The problem for health departments is their need to respond to people trying to stop the sharing of free food with the hungry. Sharing free food should remain an unregulated gift of compassion.
Please alert your community to this threat to community efforts to end hunger and organize for a change in America's priorities.
Please ask Brown to veto AB- 2178, Limited Service Charitable Feeding Operation.
Governor Edmund G. Brown
c/o State Capitol, Suite 1173
Sacramento, CA 95814
Phone: (916) 445-2841
AB-2178, Limited Service Charitable Feeding Operation
https://leginfo.legislature.ca.gov/faces/billAnalysisClient.xhtml?bill_id=201720180AB2178
Share No More: October 2014 Report The Criminalization of Efforts to Feed People In Need
http://nationalhomeless.org/wp-content/uploads/2014/10/Food-Sharing2014.pdf
The 30th Anniversary of the first arrest of Food Not Bombs