The repressions against Food Not Bombs have started again in Belarus.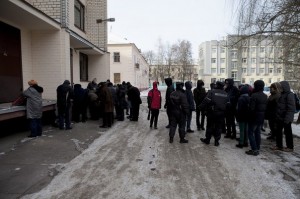 The first distribution of food took place in 2005. Today there are 3 points of Food Not Bombs in Minsk, we give out about 100 portions of food every week.
We were pursued by police many times. In 2011 the special police troops came during the distribution of food and arrested some of our friends. They have stopped some of our events. In 2012 the police interrupted our punk-rock concert that was dedicated to the FNB. They have arrested more than 120 people. KGB tried to recruit our friends.
Repressions were resumed. On 25th of January the police troops have visited again one of our points, and we were forced to leave our place next day. At next week, on 1st of February, the police forced us to leave the square, where we usually handed out food. On 2nd of February we have organized our event at the usual place, but police arrested one of our comrades. We blocked the police car, but half an hour later a bus and few cars arrived and we had to leave and our comrade held in the hands of the police for about an hour.
We met the police again this week. On 8th of February they came and they asked us to stop our activity. On 9th of February senior police officers came and dispersed most of the homeless, but we managed to feed 7 people. We will stay until the end! Viva solidarity! We will stay until the end! Viva solidarity!
Sent on by anonymous. For more info see fnbminsk.noblogs.org