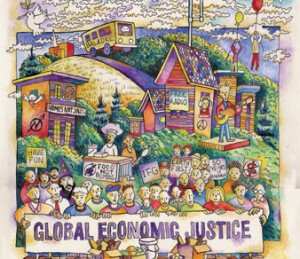 Fort Lauderdale Food Not Bombs is inviting people hungry for justice and delicious vegetarian food to come out to Government Center in downtown Miami Friday, November 15th, at 7 pm.
Food Not Bombs is a global movement for the end of institutionalized poverty and hunger; something the free trade agenda plays an increasingly large role in as austerity and structural adjustment abuses food prices and social services worldwide.
Therefore FNB activists will be converging to help with FTAA weekend and inviting people to take an active role in communities in South Florida to combat economic inequality. Along with help setting up this sharing we are also inviting activists to help us plan more activities for Friday night to get the FTAA+10 off to a good start!
Find out more about FTAA+10 at ftaaplusten.blogspot.com