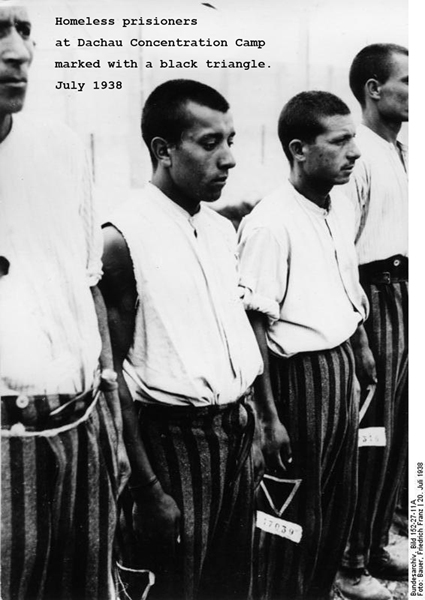 First they came for the homeless, and I did not speak out —
Because I was not homeless.
Then they came for the Mexicans, and I did not speak out —
Because I was not a Mexican.
Then they came for the Muslims, and I did not speak out —
Because I was not a Muslim.
Then they came for me —
and there was no one left to speak for me.
The thought of what could be ahead is too frightening and could never happen here in America. After all we sent a man to the moon and wired the first city with electricity. America is home to Harvard and Yale, Louisa May Alcott , Hemingway and Mark Twain. We are a civilized people but we are also the country of the Trail of Tears and Japanese Internment Camps. Will we remember these days as the time we had wished we had done something but remained silent?
We stand here waiting. How many more people will move to a blue tarp along a freeway once 700,000 people lose their food stamps in April in a country where 148 million Americans already live on the brink of homelessness?
Obamavilles line our streets, refugees from the 2008 bank bailout that transferred over 8 million homes to venture capital funds and international investment bankers. When I attended the Ron Casanova Memorial National Union of the Homeless Officer Training I walked through Hells Kitchen under towering glass skyscrapers draped in Luxury Condominium signs buttressed by camps of blue tarps and cardboard box shelters. Empty condos built to park the profits from the housing foreclosure crisis and don't think for a moment that isn't the plan here in Santa Cruz with the projects on Pacific and Front Streets. No one needs to live in these investments. They stand there prepared to reap more profits after next economic downturn. We may remember the Savings and Loan Crisis and the Troubled Asset Relief Program (TARP) and the theft of trillions. Did they know their victims would be moving under blue tarps and thought the acronym ironic?
The rush of millions to the streets is no accident nor is the good cop, bad cop meme addressing the unsightly problem of homelessness. In September 2019 headlines blared "No truce: Trump keeps up feud with California during visit" attacking California Democrats for environmental problems he blames on the homeless. The Washington Post reported that, "Trump directed officials to crack down on homelessness in California and discussed relocating homeless people into government-backed facilities." For Christmas Trump attacks Newsom, 'Really bad job': Trump rips California governor over state's homeless population.
The Nation Magazine article "Trump's Plan to Solve Homelessness Is Horrifying, Democrats are right to be outraged—but their ideas aren't much better" hints at the strategy of the proposed bipartisan campaign to build support for mass internment of those who cannot afford housing.
"Going forward, the administration appears to be leaning on a prominent role for law enforcement, with a focus on shelters that sequester homeless people away from downtown in large, centralized facilities… Carson's latest stop is yet another signal that the administration is keen to take a hands-on approach to people who sleep on the street. Advocates say that the government is looking closely at ways to turn former correctional facilities and federal buildings into shelters, a controversial approach backed by Robert Marbut, the newly appointed White House czar on homelessness."
The Trump Administration appointed Robert Marbut to head the U.S. Interagency Council on Homelessness (USICH) in December 2019. He was an aid to President George H. W. Bush, former San Antonio councilman who claims he was influenced by his neighbor, Max Lucado, Pater of the Oak Hills Church. In a 2011 Associated Press interview Marbut described himself as wielding a "velvet hammer" toward homelessness.
NPR's Rachel Martin interviewed the consultant after he had been hired by Ft Lauderdale, Florida to justify the city's arrest of World War II veteran Arnold Abbott and a number of Food Not Bombs volunteers for violating a law restricting the sharing of food with the hungry in public.
Marbut starts his 2014 interview telling Martin "If you give cash out on the street, generally of about 93 percent of it goes to alcohol, drugs and prostitution. And if you give food on the street, you end up in a very convoluted way, but still an important way, you end up preventing people from going into 24/7 programming.
The new director of the USICH has helped popularize the theory that cities should ban "street feeds" because sharing food on the street "enables" the homeless who, because they are addicts and mentally ill, can only get help by going to a Navigation Center to get "wrap around services" with " 24/7 programming".
"If [it] was working, California should have the lowest numbers in the country, and it should be reducing," he told The LA Times after becoming director of the USICH. "And instead for the last five years, it has gone the other direction. So you can't tell me it's working. … To me, it's that simple."
Vice's Emma Ockerman writes "One California shelter he advocated for was a former jail densely packed with bunk beds. Another shelter he boosted in Florida, called Pinellas Safe Harbor, was described in a 2014 report to the United Nations Committee Against Torture as a "cruel, inhuman, and degrading" choice for homeless people there. The shelter was bare-bones and required homeless people to sleep on the floor before "earning" a bed."
Marbut is the perfect choice to head Trump's Homeless agenda. The White House released a report on homelessness in September 2019, announced a change away from the Housing First policies adopted by HUD and the Interagency Council on Homelessness. City Lab's Kriston Capps "Going forward, the administration appears to be leaning on a prominent role for law enforcement, with a focus on shelters that sequester homeless people away from downtown in large, centralized facilities."
"One advocate for a Washington, D.C.-based housing organization says that HUD has narrowed its focus to a list of 24 cities and states, all of which have large numbers of unhoused people sleeping outside. Most are located on the West Coast, where Trump has sought to embarrass progressive officials by intervening." Santa Cruz is on that list according to City Lab.
The Trump Administration stepped up its campaign against the homeless this fall. In an article, "Trump pushing for major crackdown on homeless camps in California, with aides discussing moving residents to government-backed facilities" a White House aide told the Washington Post during a September 11th tour of an empty government hanger that "We're not rounding up anyone or anything yet"
At the same time Newsom's Homeless Taskforce co-chairs, Sacramento Mayor Darrell Steinberg and Los Angeles County Supervisor Mark Ridley-Thomas have been advocating even more repressive policies including "a right to shelter, obligation to accept" proposal. In mid January Newsom announces a Homeless State of Emergency followed by headlines that "California Governor Wants Truce With Trump in Homelessness Fight".
The pace of new proposals has quickened since the first of the year. "We are long past the time that everything we do around homelessness should be optional," said Sacramento Mayor Darrell Steinberg, a co-chair of the task force, announced on January 13th criticizing the current approach that relies on local governments acting voluntarily.
Newsom's Council of Regional Homeless Advisors is calling on the state Legislature to introduce a November 2020 ballot measure that they are pitching as putting the burden of homelessness on state and local governments helping "their residents experiencing homelessness by providing interim and permanent housing." Task force members said a ballot measure is necessary because the mandate requires a constitutional amendment. A study on how Californians feel about the proposed ballot measure which currently includes a 12 month sentence in county jail if an unhoused person refuses their obligation to accept shelter.
The White House is not the only one making noise that those who live outside need to be removed from the streets. California Democratic leaders are considering a plan to make it illegal to live outside aggressively promoting the idea that the homeless will be obligated to accept shelter. "I don't think there's anything wrong with saying that living on the streets is not a civil right, that you have to come indoors. How we enforce that, work on that, will be for debate and discussion and a lot of good work ahead," announces Sacramento Mayor Darrel Steinberg and Co-chair of Governor Newsom's new homeless task force on July 17, 2019.
Steinberg's LA Times Oped says, "First, we need to establish the legal right of all people to sleep inside either through executive, legislative or court action. Establishing this right is a necessary prod for our state to build sufficient shelter. Second, we need to establish an obligation for those camping on the streets or on the riverbanks to come inside. And third, we need to have enough places to house ― even temporarily ― those who don't have access to shelter, because the courts have been clear that cities and counties can't enforce illegal camping laws unless shelter is available."
At the same time Steinberg was suggesting people should be obligated to accept shelter his city was filing briefs asking the Supreme Court to overturn the Ninth Circuit Court of Appeals ruling in Martin V Boise. Forced acceptance of shelter in government facilities and removing everyone from the streets may be one way western municipalities could comply with the Appellate Court ruling.
Santa Cruz has its own version of the good cop, bad cop homeless policy public relations campaign most notably in Chief Mills cynical sponsorship of the Martin Luther King Jr March and requests to post homeless advocate Rabbi Phil Posner's beautiful article on his 39 days in a Mississippi jail as a young Freedom Rider.
The day before the Santa Cruz Police evict the self managed camp behind Ross Chief Andy Mills posts, " Let's be clear, for the police to be effective, the public must willingly follow the law." He continues, "The City's anti-camping ordinance was suspended by the City Council, in the spirit of full compliance with the Ninth Circuit's recent decision in the Martin v. Boise case, which held that the Cruel and Unusual Punishments Clause of the Eighth Amendment precludes the enforcement of statutes prohibiting sleeping outside against homeless individuals with no access to alternative shelter."
Then he suggests a solution for the city to get around Martin v Boise. "There are some laws we can pass to control some of the behaviors associated with fostering a culture of lawlessness.  On November 26, Council will take up for consideration an amendment to the current camping ordinance currently being written by the City Attorney, in collaboration with the Police Department." Nearly half the Santa Cruz Police force arrived early on Friday, November 15th to evict the 75 or more people who had made Camp Phoenix their home.
Still the fact that the homeless showed that they could provide for themselves frightened city officials. At the November 26th City Council meeting City Attorney Tony Condotti attempted to justify a new emergency camping ordinance saying that city attorneys across the state agreed that they could comply with Martin v Boise by letting people set up tents on public property during the evening possibly reflecting a discussion by City Attorneys at the May 9, 2019, League of California Cities meeting on Homelessness at the Hyatt Regency in Monterey, California. A week later special guest and new Santa Cruz Mayor, Justin Cummings told the CACH that the emergency was over now that "Ross Camp 2.0" had been evicted giving the committee more time to fashion an anti-camping law that would meet the requirements of Martin v Boise even though the closing of the camp was in fact the beginning of the emergency for those who found safety at Camp Phoenix.
On a cold damp December 16th evening outside the Calvery Episcopal Church Cooper and Russell tell of how they watched the police snap their tent poles and slice holes in their tent as they were returning from the toilet. As they share their frustration a group of desperate people interrupt to ask for blankets. Thankfully people had donated blankets and coats to the Santa Cruz Homeless Union and they were able to help.
That same day people talked of how the Supreme Court let the Ninth Circuit Court of Appeal ruling on Martin v Boise stand. The LA Times reported in that morning's paper that, "For communities across the West hoping to gain some legal leeway to deal differently with homeless people sleeping on their streets, the U.S. Supreme Court on Monday dealt them a setback that, at least for now, maintains the status quo" offering another opportunity to confuse the public in this brutal war against the poor.
"Advocates for people who are homeless considered the decision a victory as news came down. Theane Evangelis, Boise's lead counsel on the case, disagreed, saying in a statement that, "the 9th Circuit's decision ultimately harms the very people it purports to protect."
But Santa Cruz had not let the September 4, 2018, Ninth Circuit Court of Appeal ruling get in the way of inflicting cruel and unusual punishment on those who cannot afford housing nor would the Supreme Court's refusal to hear the case change the city's harsh policies. The city had already stopped routinely issuing camping tickets and instead began issuing more trespassing, in park after hours, and smoking citations and continued to confiscate tents, blankets and other survival gear.
In a stark example of Anatole France's famous quote, "The law, in its majestic equality, forbids the rich as well as the poor to sleep under bridges, to beg in the streets, and to steal bread" Santa Cruz Police Chief Mills claims his proposed laws are not directed at the homeless. He tells those attending the first of a number of public meetings that his laws are designed to target nuisance behaviors "The purpose is to control behaviors that affect our businesses, that affect our community, that affect our citizens – both housed and unhoused." If a home owner erects a pup tent on a sidewalk before 10:00 pm they too would be violating his proposed Martin v Boise work-a-round camping ordinance.
The Santa Cruz Sentinel's Jessica York writes "Prominent among the ideas that Santa Cruz Police Chief Andy Mills plans to shop around the community, including the more than 50 people gathered Wednesday night at a Santa Cruz Neighbors meeting, is a revamped city no-camping ordinance. The new law, as discussed this week, may focus on restricting signs of daytime encampments in public locations from 7 a.m. to 10 p.m. The city's Community Advisory Committee on Homelessness also has been seeking public engagement on a revised ordinance recommendation, due for city consideration Feb. 25."
York adds Mills also suggests "expanding Pacific Avenue's designation as a city "park," subject to nightly curfews and escalating stay-away orders and that his police officers be given discretion to offer "diversion" punishments and/or upgrade infractions to arrestable misdemeanors in the field for repeat offenders."
"Mills also elaborated on his plan to empower officers with more enforcement flexibility and discretion. He said of the approximately 11,000 tickets his officers hand out yearly, about 8,700 — some 79% — go to 'people without addresses.' Of those who receive tickets and are homeless, Mills said, 92% do not appear in court on the citations."
"Because so many people fail to appear on their tickets, it's not an effective strategy. What I'd much rather do is to divert them to keep them out of the justice system altogether," Mills said. "A way of doing that is to give the officers discretion to hold the ticket and say, Saturday, if you come and help us clean up part of the city, let's do something positive for the city, we will not send it over to the City Attorney's Office for issuing."
But the ultimate work around to the Martin v Boise's rullinng might be to force those who cannot afford housing in to massive Navigations Centers and arrest those who fail to accept their obligation to go. Former California Assembly Member Speaker pro tempore, Fred Keeley is the facilitator of the Santa Cruz Community Advisory Committee on Homelessness, a committee formed the evening that City Council voted to evict the 200 or more people from Ross Camp. He invited three homeless activist to breakfast to get our opinion on the construction of a homeless service center 4 or 5 times larger than the current Housing Matters facility on Coral Street. He did not share his opinion on the issue.
This December former Gap Clothing software developer, Duane Nason, launched a website for his project Citizens Again. Nason's Crowdsourcing page is looking for $3 billion, "It's time to think differently to solve the homelessness crisis: instead of building 4,000 more shelters, Citizens Again is crowdfunding to build 1 city, catering towards America's entire chronic adult homeless population, and it will be quicker and cost billions less than current efforts.
Like Marbut, Steinberg and local Santa Cruz officials, Nason believes those who are experiencing homelessness need to be fixed and they know just how to do it. "Qualified citizens will choose to live in the City and are free to leave at any time. Some might want to stay forever. Others might just need a chance to get back on their feet to reenter society."
But what Nason is not saying is that the authorities would never let the residents of his 300-acre City leave anytime they want. We know this because that is already the case with the shelters in most communities including here in Santa Cruz.
This is that moment in history where we must decide if we support the internment of the homeless for their own good or that it is time resist this slide towards the horrors of the past.
Keith McHenry
Cofounder of the global movement Food Not Bombs
PO Box 422, Santa Cruz, CA 95061 USA
keith@foodnotbombs.net
1-800-884-1136