As Food Not Bombs (FNB) of South Florida we are declaring our opposition to the proposed private Immigration detention center to be built in Southwest Ranches.  It is obvious who is profiting off of said facility, the Corrections Corporation of America (CCA). The residential communities of Southwest Ranches and Pembroke Pines want nothing to do with this absurd prison and it is very clear why.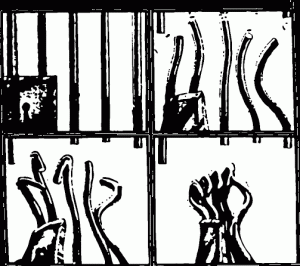 The CCA has a history of human right violations such as accusations of rape, mistreatment, intimidation by employees and supervisors, deprivation of adequate medical care and proper nutrition. CCA plans to build an immigration detention center which tears families apart, denies the human right to live freely, move freely and choose where an individual wishes to reside. Anti-immigration measures such as this, and the creation of imaginary borders divides us as a human species and creates animosity, xenophobia, false patriotism and a blind faith in corrupt governments and systems.
CCA has also no problem destroying the environment to in order to enrich itself. The prison plans to use 180,000 gallons of water a day from the Biscayne aquifer, according to the Sierra Club of Broward County. The used waste water from this facility will later be injected 2,600 feet underground which will lead to the pollution of our local groundwater and pollution of surrounding everglades which will harm endangered species like the American Alligator and Florida Panther who are struggling to survive constant expansion into their habitats.
CCA as a private CORPORATE prison is in and of itself a crime against the people. Not only is the incarcaration of people by the State revolting, for a group to capitalize from the prisoners is unconscionable. We cannot support the prison industrial complex which thrives on imprisoning, enslaving and oppressing our people. Just like other prisons we must work to stop the growth of detention centers which seek to take our rights away for their profit.
As Food not Bombs South Florida, we oppose the building of this new immigration detention facility not only in Southwest Ranches but everywhere for its human rights violations, the destruction of our unique natural environments, and its  involvment in the oppresion of people for profit and gain. To join the fight against the constuction of this private prison contact Kathy Bird from the Florida Immigrant Coalition at (786) 210-9030 or at her email: kathy@floridaimmigrant.org.